Your Local Look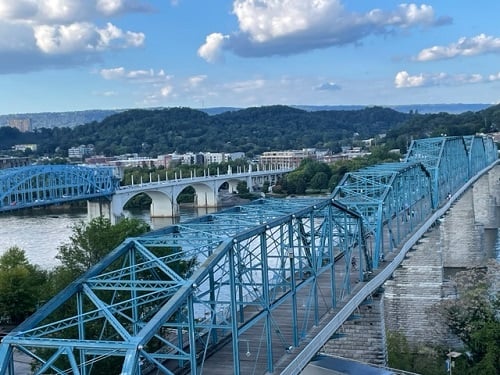 Beginning in March, The Great Smoky Mountains National Park will begin charging a small parking fee. It will be about $5 a day, if you plan to stay in the park for more than 15 minutes. This will be called "Park It Forward", and the extra money will be used for park maintenance, as well as to hire more police officers to patrol the Park.
The annual Martin Luther King Jr. Parade will be held on Monday January 16th. The line-up will begin at 1:00 on Georgia Avenue at Miller Park, and will proceed up MLK Jr. Boulevard. The main program will begin at 3 at Olivet Baptist Church.
The UTC Men's Mocs Basketball Team will host V.M.I. this Saturday January 7th at the Arena. That game starts at 2. And the Men's Mocs will host Western Carolina at the Arena, January 11th at 7:00. Tickets are online at GoMocs.com
The price of a first-class Forever Stamp will go up to 63 cents each, beginning January 22nd. The price of a stamp right now is 60 cents each.
Ice On The Landing is still open, outdoors, at the Chattanooga Choo Choo. Bring your own ice skates, or rent them there! You can ice skate through January 29th, downtown.
The Northside Neighborhood House gives a helping hand to families who live north of the River. They help with food, clothing, and even help to keep the electricity on so that families are warm in the winter. If you would like to make a donation, learn more on their website: NNHouse.org… That's NNHouse.org, for Northside Neighborhood House.