Your Local Look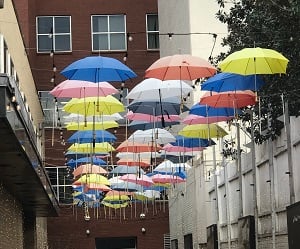 Local Salvation Army locations give hundreds of homeless men and women a warm place to sleep, when it gets below freezing outside. You can donate new blankets or socks at the Chattanooga Salvation Army location on McCallie Avenue. Or help them financially at CSarmy.org. That's CSarmy.org
    TVFCU is sponsoring the expanded Porcupine Exhibit at the Chattanooga Zoo, and a baby porcupine has just been born. It's a girl, and she needs a name. Visit TVFCU.com/zoo and submit a name, by this Friday the 17th. If your name is chosen, you'll get a one-year membership to the Chattanooga Zoo. That's TVFCU.com/zoo by this Friday afternoon.
    The UTC Lady Mocs are hosting Furman, this Thursday night the 16th. ALL survivors of ALL cancers are invited to the game, for free. Celebrate beating YOUR cancer, this Thursday night at 7, at the Arena. With the Lady Mocs basketball team.
    A child in America is diagnosed with a critical illness, every 20 minutes. The Make-A-Wish Foundation helps make wishes come true for these kids! You can help by donating money, your time, or even your sky miles… Find out more on their website, Wish.org/ETN
     "Improv Chattanooga" is a new non-profit here in the Scenie City, and they have their first fund-raiser this Saturday the 18th. Starting at 8pm at the Bode Hotel, it's a night of hilarious improvised comedy – with actors up on stage AND maybe even members of the audience! It's lots of comedy games and lots of laughs too, for just $10. Saturday night at the Bode Hotel. For details, visit ImprovChattanooga.com
     The Chattanooga Symphony will perform music and poetry to accompany "The Holocaust Exhibition", this Thursday night at 7. The performance will be at the UTC Hayes Concert Hall, and is free of charge.