Happy Birthday, Tom Jones!!!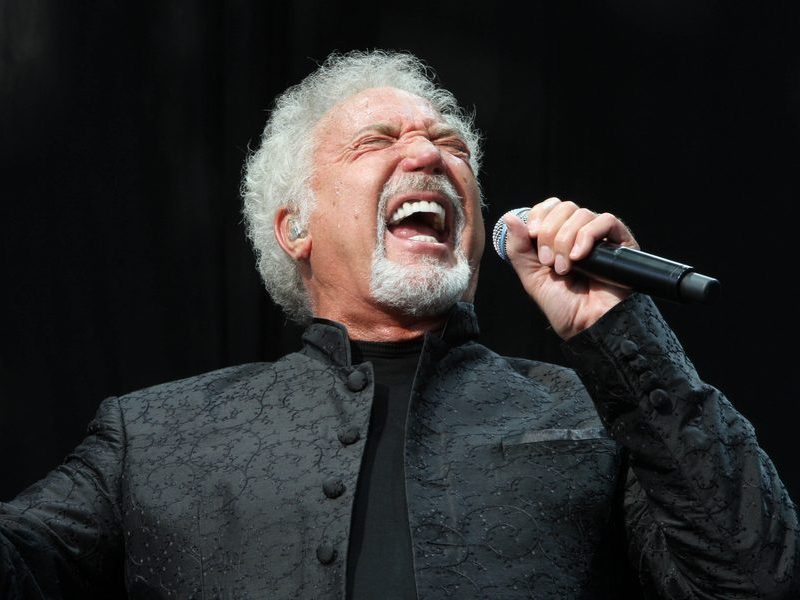 Happy Birthday to Tom Jones, who turns 83 today (June 7th)!!! Recently relesed is Jones' 41st studio album, Surrounded By Time. The collection once again pairs the Welsh legend with producer Ethan Johns — son of legendary Eric Clapton and Who producer Glyn Johns. The collection features Jones covering Bob Dylan's "One More Cup Of Coffee" and Cat Stevens' "Popstar."
A new song on the album, titled, "Talking Reality Television Blues," is directly based on Donald Trump.
Back on April 10th, 2016, Tom Jones' wife of 59 years, 75-year-old Linda Woodward, died in Los Angeles after a "short but fierce battle with cancer." Although unconfirmed, Jones has recently been linked with his old friend Elvis Presley's ex-wife, Priscilla Presley, despite representatives denying any romance.
Tom Jones first sprang on the charts with the 1965 Top 10 smash "It's Not Unusual," which led to his Best New Artist Grammy for that year. He went on to score hits with "What's New Pussycat?," "Thunderball," "Green, Green, Grass Of Home," "Delilah," "Help Yourself," "I'll Never Fall In Love Again," "Love Me Tonight," "Without Love (There Is Nothing)," and "She's A Lady," among others.
Tom Jones' 2015 studio set, Long Lost Suitcase, featured covers of the Rolling Stones' Beggars Banquet classic "Factory Girl," Hank Williams' "Why Don't You Love Me Like You Used To Do?," and the folk standard, "He Was A Friend Of Mine."
In 2012, Jones teamed up with Ethan Johns to record Spirit In The Room, which features his covers of Paul McCartney's "(I Want To) Come Home," Bob Dylan's "When The Deal Goes Down," Paul Simon's "Love And Blessings," Tom Waits' "Bad As Me," and Kenny Rogers & The First Edition's "Just Dropped In (To See What Condition My Condition Was In)."
In 2010 Jones and Johns first teamed up for Praise And Blame, which featured covers of Dylan's "What Good Am I" and John Lee Hooker's "Burning Hell."
Tom Jones says that unlike many other of his peers from the 1960's, he's always looked at his job as being strictly an entertainer: "I've always wanted to entertain people. I don't think you should remind people about the worries of their life. I mean, they could laugh or they could cry. Some of the songs are very sort of tender but that's about it. That's about what I try to do. I try to make people feel, y'know, feel good and to get them away from everyday life."
Jones credited his son and current manager Mark Woodward for saving him from becoming a Las Vegas caricature: "People are not taking you seriously. You are becoming a caricature of yourself. So that's. . . he made me aware of that. So I don't wear, y'know, my pants are not as tight anymore and I don't open my shirt as far and I don't pick up the underwear. Occasionally I do."
Tom Jones' career took on a whole new turn with his 1990 collaboration with Art Of Noise with their cover of Prince's "Kiss": "When I heard 'Kiss,' I thought, y'know, that's, like, it in a nutshell right there. Y'know, he's put 'you don't have to be this to turn me on, you don'y have to do. . . so all I want is your touch and your (sings riff) — Kiss.' Y'know, I mean, it's like there's certain. . . It's ways of writing songs about certain things, but they have to have something that perks me up. Y'know, that says something to me. But the way — y'know, the way that it's written, that's the thing."
Over the past 25 years or so, Tom Jones has shed most of his pop sensibilities and evolved into a dyed in the wool blues singer. We asked him if he made a choice of recording solely age-appropriate music: "Yes, it's to do with age — there's no getting away from it. I've always sang it in the best way I know how. I put myself into it."
Tom Jones next performs on June 14th at Surrey, England's Hampton Court Palace.